History of the Marrette® Brand
The brandname Marrette and wire connectors have been interchangeable since Bill Marr revolutionized the way conductors were connected with the invention of the first pressure-type wire connector in 1914. Today, Marrette® wire connectors are still an industry standard and are still proudly designed and manufactured in Canada by ABB.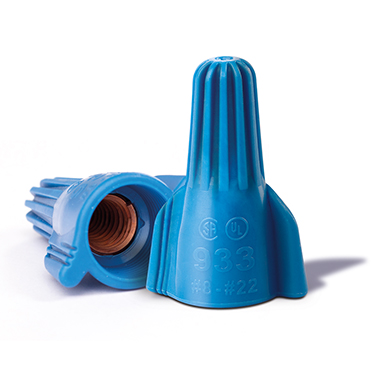 PRO-BLU Wire Connector
Designed and manufactured in Canada, the new PRO-BLU 933TM wire connector was developed with the installer's needs in mind. With an ergonomic design and a wide range of approved wire combinations, this wire connector is a perfect fit for the majority of residential and commercial applications.
External Cap
Ergonomic wing design makes installation easy and painless, even when installing multiple wire connectors
Posi-GripTM surface provides superior twisting power, even when hands are greasy or damp.
Finger-friendly plastic for an even more comfortable grip
Rounded edge for safe and comfortable installation
Made of durable polypropylene resistant to temperatures up to 125°C (257°F)
Deep, wide throat ensures full insulation coverage.
Inner Spring
Live Action® variable volume spring expands to accommodate even more wires with less twisting effort.
Wide range of wire combinations: #22 to #8 AWG, solid or stranded, no pre-twisting required
See approved wire combinations chart
The square wire spring construction and funnel design gives a positive pressure conductor grip for solid or stranded wires.
Approved for circuits up to 600 V and lighting fixtures and signs up to 1000 V
Learn more